How do you break into an old and established market?

... You create a product or service that isn't just a little better than the norm; it needs to be a massive improvement.

If you make your product or service a little bit better, you'll struggle to get people to change their current choices. Once someone has invested time, energy and confidence in something, they will be satisfied. They won't get tempted to change what they buy or do for a tiny improvement.

That certainly seems to be the case in the oil and gas recruitment business. If you offer a client a slight discount from the day rate commission or promise 'good service' then you are not likely to get anywhere, the recruitment manager will have their preferred vendors, people that they have known for years, and that they have eaten with and played golf.

These relationships will not get challenged quickly.

If however, you can help people to save a lot of money, time and hassle, you might be onto a winning formula. If there is a background of extra-budgetary pressure and cost-cutting within the company, then a new player can potentially help solve a host of problems at the same time, allowing the new disruptive company to soar.


It's happening regularly

Examples of this disruption where the new player helps people save time, money and effort are relatively common. That has been especially the case in the last ten years as one industry after another properly harnesses the internet for their business.

As case studies, we can examine recent internet cost-saving or comparison sites for travel, insurance, and property sales.

We have all heard of Agoda.com, Priceline.com, Flights.com and the other travel companies who can give you travel and holiday quotations from multiple sources.

Car insurance comparison sites are effectively slashing commissions away from insurance companies, at the same time they save you the process of calling one insurance company after another, collecting quotes and trying to compare the details and small print. They can provide these benefits to their customers in the comfort of their own home, with a quick search on their laptop.

The same benefits are being offered in many other industries too.

How many people still prefer to go to sit in line at the travel agency? Or have an insurance salesperson call to spend 2 hours trying to sell their particular products?

Most people still pay a significant percentage of a property sale to real estate agents, but do they need to?
Housesimple.com

Housesimple an award-winning online estate agent who will help you sell your property. Most readers will have experience in selling property, so they will understand the benefit here. How much did you pay your real estate agent in the past? 1%? 2%?

Housesimple charges a fixed fee of £345 ($500 /EUR440), and that's it! If I were a real estate agent, I would be looking for another career right now. Here is a screenshot from their website: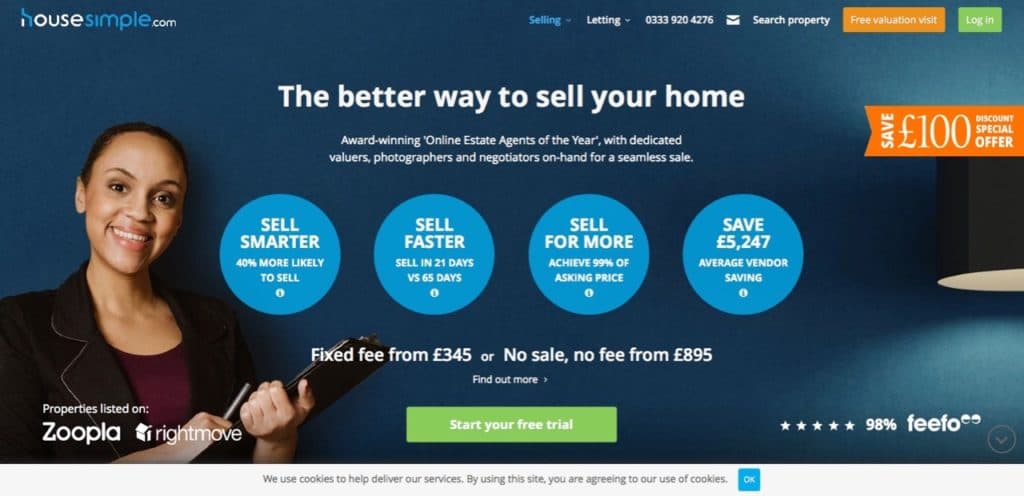 Right on the home page, you can see the benefits:


Sell in 21 days VS 65 days
Achieve 99% of the asking price
Save £5,247 average vendor saving


Now, even if your husband, wife, mother, father, son or daughter were involved in real estate, you are likely to want these benefits still. They will tell you not to do business with them! You can split the £5,237 saving between you and pay for a holiday! Use the time that you would have spent dealing with real estate agents. Relaxing on the beach!!
Now, this article is not an advert for a real estate agent!

It is a semi-pitch for ourselves, NatResPro! We don't mind the 'sales' tone here because those who listen to us and work with us will benefit. There is a difference between persuasion and manipulation. Manipulation is good for the seller and bad for the buyer, but persuasion can be useful for all involved. The more benefits offered, the easier it is to persuade others to get involved with the idea.

Just as with the latest online comparison sites and property services, NatResPro can help clients:


Save time by conducting an online search through an interactive database of candidates. (Online and instant search)
Save money by paying a one-off fixed fee for a candidate's details. (Save more than 90% just as with Housesimple)
Save stress and hassle by only getting candidate details that have been verified, optimised, and standardised. (By a veteran Skill Pool Advisor with at least 20-years of relevant industry experience)


We believe that our service is the first of a new wave of oil and gas recruiters. As with the other industries disrupted by this type of model, this is sure to 'catch on' because savings are significant.

If you love your existing recruiter, you can use the money you save by taking that holiday with them!

No? Maybe not.

Seriously, though, if you are reading this and you are a recruitment manager for an oil and gas company, get in touch to find out how we can help you.

If you are a candidate looking for work, then you should create your Work and Rig History Profiles. If you meet our criteria, then you will be available on the industries newest and most modern system of recruiting. You might be selected by a company who is quick to see a good thing. The cost savings will also mean that your expense package might be more generous due to the savings that our service offers!
< Why We Don't Post Fake Job Adverts
The End of the 'Us Versus Them' Mentality in Oil and Gas Recruitment >